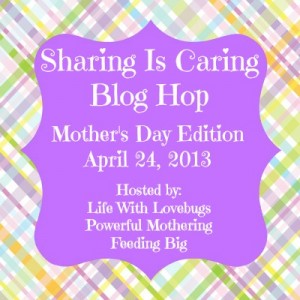 This post is part of the Sharing is Caring Mother's Day Blog Hop
This potted flower tutorial is a frugal handmade gift for Mother's Day.
You will need the following:
Adhesive/glue
Wire cleaners
Flower punches or die cut
Paper/fabric/coffee filters
Flower pots (2 1/2 in tall)
Styrofoam
Moss or some filler
Optional: Embellishments, stamps, glitter, & ink pad.
You will need 3 equal sized flower punches or coffee filters. I used a size 5 die cut. In the center place a foam dot. This will make it easier to wrap the wire cleaner stem around the center. Pinch the 3 layers around the foam dot and twist. Start wrapping a green wire cleaner mid way. The higher you start, the tighter the flower. Then fold the layers downward. You may have to adjust the stem or flowers are few times. Stick the other end of the pipe cleaner into a Styrofoam piece. Here I am using a small ball. Glue the embellishment in the center. You cause use buttons too.
Here is another example using dyed coffee filters. You want to dye these a head of time. Just place them in a cup of dye and water. Dilute the mixture for a softer shade. I did this tutorial a few years ago and it did take some patience.
The next flower is made from just pipe cleaners. Basically you create the petal around your fingers. For instructions visit
Five Petal flower tutorial.
Push the green pipe cleaner through the middle of the flower and create spiral knot or twist.
Create leaves on the stem by forming a figure 8 midway. Similar to step one of creating the 5 petal flower. Stick the other end of the pipe cleaner into the Styrofoam.
The third flower is made from left over flower die cuts. Always save scraps. These were cut along with safari animals (hippo) when working on my son's party decorations. Slightly bend/roll the petals using a dowel or pencil. Use clear adhesive to glue the layers together. For dimension use a foam dot in the middle. On the back of the flower stick the wire cleaner through the foam dot or use glue.
Now for some fun decorating the pot. I decided to emboss a stamp image with sparkle embossing powder. I used clear emboss for the butterfly and a purple for the sentiment "Happy Mother's Day". You can add ribbon or another pipe cleaner to decorate the rim.
Here are two larger pots that my son and I painted together. We used acrylic paints and left over wall paint. Glue some flowers and add sparkle with glitter glue.
This post is part of the Sharing is Caring Mother's Day Blog Hop. Please visit others found below.